Free Play Slots
Enter the exciting world of free play slots. Play a free slot machine with no real money involved. Here we offer you a really fun-to-play slots game you can enjoy for an unlimited amount of time, totally free.
Come back often and play as much and as long as you like; and perhaps learn a little more about slot machine play, and perhaps even play video poker online to gain a little more experience. We hope to provide you with fascinating free slots play entertainment and in the process help you play smarter, have fun, and yes, maybe make you a more proficient player, should you decide to switch to real money play.
The Western themed Free Play Slots Game (Click to play)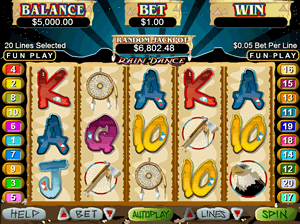 No Download Required!
I believe that, of all the free play slots available, this is the one you will enjoy the most. It's a twenty-line game with a American Indian theme. The symbols include, dream catchers, coyotes, bald eagles, and much more. Getting 3 scatter symbols triggers an awesome and high paying free spins feature.
Watch out for the Indian Chief on lines 1 and 5. He doubles as a scatter, a wild, and really boosts your win rates! It's also not unusual to trigger the free spins feature during a free spin round so you can end up with a huge number of free games which really adds to your winnings. It's and really scenic game though, pleasing to the eye, good potential for winning, just click here and have fun!
After enjoying the Wild West, take part in some great slots tournaments that are offered only at a top online casino. However, if you want to practice a bit more try out some free slots.
A Spectacular Online Slots Game

Don't miss Roxy Palace's slots game called "Spectacular". This machine features a respectable jackpot and there are two "wild" symbols. The payout amount is doubled if one wild symbol appears on a winning pay line and quadrupled if both symbols show up. The game can be played at five different coin levels, 0.25, 0.50, $1.00, $2.00 and $5.00.
At first glance, the mid-range numbers on the pay scale don't look overly exciting, but factor in the wild symbols and those middle numbers become 200, 120, 60, 40 and 20 with one wild symbol, or 400, 240, 120, 80 and 40 with two wild symbols. "Spectacular" is an exceptional online slots game. Click here to enter Roxy Palace Casino